Debbie slams proposed peak time gaps in service for Greenfield commuters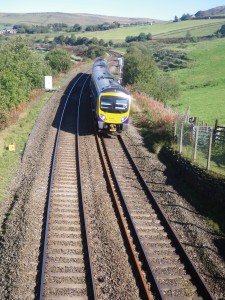 Reporter : Ruby Anstee
Debbie Abrahams, MP for Oldham East and Saddleworth, has written to the Secretary of State for Transport, Chris Grayling, demanding he intervene to overturn planned changes to train timetables that will create up to a 44 minute gap on the Huddersfield to Manchester line at the busiest times of the day.
Debbie's letter also raised the issue of the lack of direct travel to Ashton-Under-Lyne, Manchester Victoria, Salford Central and beyond in these proposals, pointing out this will add considerable time on to the journeys that people have to make to work.
Debbie said: "Many of my constituents have built their whole working lifestyle around the current timetable.
"If these changes go ahead the new service will do little to take peak times into account, creating up to a 44 minute wait between trains at two of the busiest times of the day which is ridiculous."
The proposed peak time trains from Greenfield to Manchester Piccadilly are: 06:46, 07:29, 07:45, 08:29.
Debbie added: "If these proposals are implemented the 08:29 train will get my constituents into Piccadilly at 08:58 which will be of little use unless they work at the station.
"Clearly there needs to be a service between 07:45 and 08:29. Currently there is a train at 08:04 but this change will mean constituents have to leave 20 minutes earlier, to get on a busier train and some will have their child caring and other morning routines greatly disrupted."
The proposed peak time trains from Manchester Piccadilly to Greenfield are: 16:17, 17:02, 17:18, 18:01.
Commenting on the Piccadilly to Greenfield timetable Debbie said: "The 17:18 will be made incredibly busy by these changes. This is a service which is already uncomfortably full at peak times and this proposed timetable will only exacerbate the situation. The lack of a service between 17:18 and 18:01 will cost people quality time with their families."
The current timetable has trains leaving Victoria at 17:11, 17:26 and 17:57.
Debbie said: "I've told Chris Grayling that some of my constituents work in the Spinningfields area of Manchester, Salford and Ashton and they are concerned about the impact that the new timetable will have on their journeys to and from work.
"It is a five minute walk from Salford Central to Spinningfields and this change to Piccadilly will turn it into a 25 minute walk. This combined with the pr
oposed timetable I have highlighted will lead to even earlier starts and later finishes for my constituents.
"I'm deeply concerned by the extra pressure that this proposed timetable will have on our already congested roads. Plus the possible impact on constituents' health, and the environment, caused by the pollution of those needing to drive to work; in the west of Manchester, Salford or Ashton.
"My final point was to say that the proposals do little to tackle the ongoing issues with accessibility to Greenfield Station. I have previously written to the Department for Transport about the lack of step free access for those travelling from Manchester towards Huddersfield.
"It's simply not good enough for my constituents including parents with prams, those using wheelchairs and those with mobility issues to be unable to access platform 2 at Greenfield Station. And I have asked Mr Grayling to let me know what plans he has to ensure that Greenfield is a fully accessible station."
The Office of Rail and Road Statistics estimate that the annual rail passenger usage in Greenfield in 2015/2016 was over 330,000 people.