Bryn Hughes presents Debbie's summer school participants with graduation certificates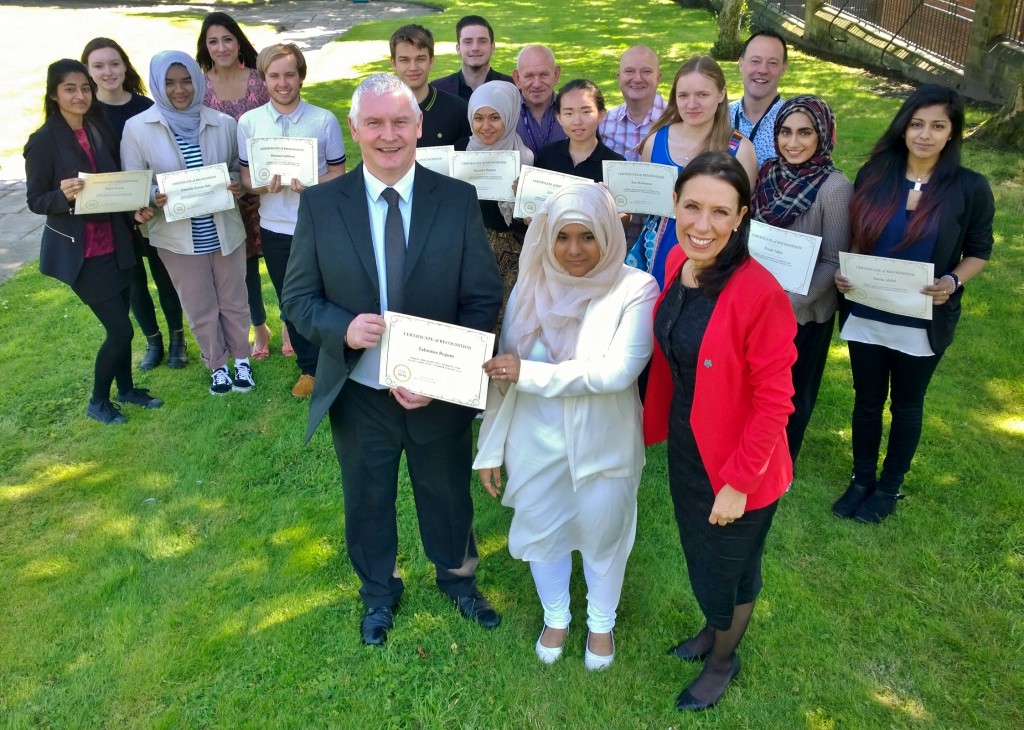 Bryn Hughes, father of the late PC Nicola Hughes, was the guest of honour at the 'graduation' ceremony of Debbie Abrahams MP's Working for Your Community Summer School where he awarded certificates to the eleven 18 to 24 year olds who have taken part last week.
The participants have spent two weeks at the summer school learning the skills required to develop their own community-action campaigns following a visit to Parliament, meeting Labour leadership contender Andy Burnham and other MPs, their staff and many more experts in local organisations during their work experience placements.
Debbie, MP for Oldham East and Saddleworth, said: "I'm very grateful to Bryn for being our guest of honour and taking the time to come and talk to our participants about the campaigning skills he's had to learn since setting up a memorial fund in Nicola's name.
"It's an incredible achievement that since he set up the charity in March 2014 he's raised around £300,000 for charities and donated £100,000 to Victim Support and the Police Benevolent Fund which has paid for the training of 92 volunteers across the north west to support the victims of crime.
"It's been a real pleasure to organise my second Summer School for another group of motivated young people. They've been really eager to learn more about politics and share in my passion for creating community based action here in Oldham and Saddleworth which can help tackle important local issues and shape all our futures.
"Everyone has, according to the organisations that have helped us by providing work experience, really thrown themselves into the projects they have been assigned to.
"I'd also like to say a big thank you to Web Applications UK Ltd, Positive Steps; Oldham Foodbank, the Link Centre and Voluntary Action Oldham who were the local organisations that helped the participants by giving some real-life work experience placements and allowing them to put their ideas into action."
After the ceremony Bryn said: "It was a real pleasure to be asked to meet Debbie's summer school participants and present them with their certificates. It's heart-warming to see so many young people who are eager to make a difference in their own community.
"The concept of the summer school, which shows young people that they can make a real difference to people's lives in their local community, is brilliant and I hope to be involved again next year as one of the  local  organisations  providing a placement."
After the graduation ceremony some of the participants spoke about their experiences at Debbie's Summer School.
Tahmina Begum, from  Oldham, who has a visual impairment and did her placement at the Link Centre, said: "I benefited a lot from this course and I got to explore what politicians do for us regarding the local community. It's not just about meetings in Parliament, it's also about getting involved with local and small agencies which help the rest of the community.
"Debbie is always smiling and the whole group was so supportive and have been amazing. I'd also like to thank the Visual Impairment team at Oldham Council who recommended this course to me and everyone who's supported me along the way, including my family."
Oldham Council's Kay Wrench leads the children with a visual impairment team. Kay said: "We've really enjoyed working with Tahmina over the years and she's very talented so when we spotted Debbie's summer school we just knew it would be right for her.
"Anything which helps broaden the horizons of young people, especially those with disabilities, is a very useful way of helping them into employment."
In February this year Debbie introduced a 10 Minute Rule Bill in the House of Commons, entitled Employment of People with Disabilities (Reporting) Bill which required listed companies, public bodies and voluntary agencies to report annually on the number and percentage of people they employ who have disabilities.
Talking about Tahmina Debbie said: "Tahmina is such a talented young woman and it's thanks to all the local experts and organisations who supported the summer school that she will now have more experience and knowledge of politics and community development as well extra skills to put on her CV.
"The Oldham Fairness Commission that I convened and chaired found that the gap in employment for disabled people compared to non-disabled people is 34 per cent in Oldham compared with 30 per cent nationally.
"People with disabilities continue to face many barriers in accessing work, whether they have a visible or invisible disability or illness. These barriers may be physical but they are also cultural. The proportion of working age people with disabilities employed is significantly lower than the non-disabled working population. Futhermore, the disability employment gap has widened slightly in the last few years.
"Although four million people with disabilities are working already, there are another 1.3m who are available to and want to work, but are currently unemployed. As the vast majority of disabled people used to work, this is such a waste of their skills, experience and talent. As a consequence of this, disabled people are twice as likely to be living in persistent poverty compared with non-disabled people. This has implications for disabled people's families as well, families with one disabled member make up one third of all families living in poverty."
Phil Wagstaff, the north west's children, young people and family co-ordinator for Action for Blind People, has also worked closely with Tahmina. Phil said: "Young people like Tahmina who are visually impaired, have to overcome more barriers than their sighted peers. Often they lack confidence, with many employers wrongly assuming if you can't see, you have limited capabilities.
"These placements are therefore invaluable, showcasing the abilities of people with sight loss, and providing real-world, confidence boosting experience."
James Parker, from Saddleworth who did his placement at Voluntary Action Oldham, said: "I really enjoyed the summer school and I got a lot out of it. I think most significant thing was getting to meet politicians and see politics from a more personal and close-up angle than you usually do. I really enjoyed the trip to Parliament and thought getting to ask Andy Burnham questions was probably the most unique experience of the summer school."
Alice Fidler, also from Saddleworth, who was placed at Positive Steps, said: "I had a really good time at the summer school. I thought it was really interesting to find out about how politics works not only at a parliamentary and governmental level but also at a grass roots level which is really where my work experience placement helped in. It's really inspired me to get more involved with my local community."
Fizah Tahir, from Oldham, did her community placement at Positive Steps too. She said: "Debbie's summer school has been absolutely fantastic and I've enjoyed every second from the first week, when we went to London, getting the training about campaigning from experts, through to the second week when we had our placements. Anyone who is interested in getting involved you definitely should. Do not hesitate; it's phenomenal!"